Set it and forget it! This is is the pressure cooker version of Dominican sancocho, a hearty meat and roots recipe to share with friends and family anytime the mood strikes. If you own a pressure cooker, there is no need to spend hours tending to a sancocho to achieve the flavor and thick broth we know and love. This is also a great recipe if you want to make a smaller sancocho for 4-6 people.
For this recipe, I am only using two types of meat (chicken and beef). Less is more here since there is only so much room in the pressure cooker. Make it to your taste by replacing with other meats/cuts including pork, sausage, smoked pork chop, etc.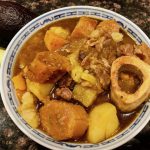 Dominican Sancocho (hearty stew) pressure cooker recipe
Ingredients
1

lb.

chicken meat

1

lb.

beef stew or soup bones

2

medium size potatoes

1

green plantain

1

cup

of yuca root

1

yautia root

1

cup

butternut squash

1

teaspoon

ground annatto seeds

bija

1

teaspoon

ground tumeric

1/2

medium red onion

1

teaspoon

mashed garlic

2

cubes of homemade season all

sazon - see recipe in this blog - optional

1/2

teaspoon

ground or fresh oregano

2 1/2

teaspoons

of salt

1/2

teaspoon

of pepper

1

tablespoon

cooking oil

1/2

teaspoon

brown sugar

3

cups

of water
Instructions
Wash, peel and cut all the vegetables and roots into bite-size pieces. Prep the onion, garlic and spices.

Set the pressure cooker to Saute and allow pot to heat.

Add the oil and sugar. When sugar starts to bubble, add the chicken and brown on both sides.

Add the onions and stir. Cook until onions are transparent. Add the beef.

Add the salt, and all the spices. Stir.

Add the roots and remaining vegetables.

Add the water. Cover the pressure cooker and follow manufacturer's instructions for closing and sealing the lid.

Set to cook on high for 35 minutes. Most pressure cookers have a setting for stews. If yours does, click on that.

Once stew is done, stir and taste. Add salt to taste if needed.

Serve with avocado and white rice (optional).

Enjoy!