Mahi-mahi works well in stir-fry since it has a sturdy texture that can withstand some stirring without excessive flaking. However, it is a lean fish, so it can be dry when overcooked. To prevent this, we will use butter and pan-fry the fish prior to mixing it with the vegetables.
For this recipe, I am using Chinese wood ear mushrooms. Wood ear is a dark, crunchy mushroom easily found in Asian markets or online. It must be rehydrated prior to stir-frying (see preparation). However, any type of edible mushroom will work with this recipe.
This is a simple dish that can be ready within 20 minutes. Serve with rice, quinoa, or eat on its own.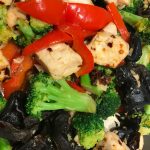 Mahi-mahi and vegetable stir fry
Stir-fried, cubed mahi-mahi with broccoli, peppers and mushrooms
Ingredients
1.5

lbs.

mahi-mahi

1

cup

rehydrated wood ear mushrooms (or any other type)

2

cups

broccoli florets

1

unit

red or yellow bell pepper

1

tbsp

butter

2

tbsp

frying oil

1

tsp

corn starch

1

tbsp

soy sauce

1

tbsp

oyster sauce

1

tsp

salt

1

tsp

sugar

4

cloves

garlic

4

slices

fresh ginger

1

cup

water

1

tbsp

hot chili sauce (optional)
Instructions
Preparation:
If using wood ear mushrooms, rehydrate them by soaking in cool water for at least half an hour, or blanch them for at least 3 minutes. Drain.

Wash and drain all the vegetables.

Chop the ginger and garlic and set aside.

Chop the mushrooms. If using wood ear mushrooms, leave unchopped.

Prepare the broccoli to be cooked. I like to make my florets smaller by cutting them in half.

Cube the mahi-mahi with a knife. Set aside.
Pre-cook the mahi-mahi:
Heat a wok or large frying over medium heat, then add the butter, ensuring it covers the entire cooking surface.

Add half of the chopped ginger and garlic. Stir.

After a few seconds, add the mahi-mahi and cover for 3 minutes.

Stir the fish carefully. Cover for two additional minutes. Once the fish is thoroughly cooked, set aside.
Stir-fry the vegetables:
Add oil to the frying pan. Allow it to heat on high temperature.

Once the oil is hot, add the remaining ginger and garlic.

Add the broccoli, peppers, and the rehydrated wood ear mushrooms, stirring for a few seconds. Splash approximately one tablespoon of water on the vegetables, stir and cover over high heat for three minutes. Stir at least once in between, to ensure vegetables do not burn. Add another splash of water if needed.

If using fresh mushrooms, add them to the stir-fry at the last minute, so they don't overcook.
Prepare the Sauce
While vegetables cook, add 1/3 cup of water to a small bowl and mix it with the corn starch, sugar, soy sauce, and oyster sauce. Stir well with a small spoon. If using hot sauce, you can add it here too.
Bring it all together
Uncover and stir the vegetables.

Add the mahi-mahi to the vegetables while still cooking over high heat.

Add the sauce and stir carefully.

Add salt to taste and stir carefully.

Serve with rice or noodles.